This qualification includes a forever free profile as "NLP Master, IN" on this website!
"NLP Master, IN"

NLP-Master-Ausbildung 183 in Tanna ab dem 17.02.2021 über 5x4 Tage.

Der NLP-Master baut auf den NLP-Practitioner-Inhalten auf.
Der Schwerpunkt liegt auf der integrativen und situations-spezifischen Anwendung der gelernten Formate. Einige neue Elemente runden das Programm ab. Ein Master-Practitioner hat sich intensiv mit NLP beschäftigt und nutzt NLP als ein Werkzeug, um sein eigenes Leben zu gestalten. Er achtet auf seine höchsten Werte und entwickelt seine Persönlichkeit auf ökologische Weise.

Nach erfolgreichem Abschluss des NLP-Master-Practitioners kennen die Teilnehmer alle wesentlichen NLP-Techniken und erhalten Sie neben dem Practitioner-Zertifikat vom Deutschen Verband für Neurolinguistisches Programmieren (DVNLP) auch das Zertifikat von der International Association of NLP-Institutes (IN). In einem Testing werden sowohl theoretische und praktische Kenntnisse überprüft. Zusätzliche ist für den Erwerb des Master-Practitioner-Zertifikats die selbständige Bearbeitung eines kleinen Themas erforderlich. Das Thema kann frei oder auf Vorschlag des Trainers gewählt werden. Das Master-Practitioner- Zertifikat berechtigt zur Teilnahme an der NLP-Trainer-Ausbildung bzw. der NLP-coach-Ausbildung.

Inhalte der Master-Ausbildung:

-Meta-Programme
-Sleight of Mouth-Pattern
-Modellieren
-Arbeit mit Glaubenssätzen
-Arbeit mit Werten und Lebensstilen
-Core-Transformation
-Diamond-Technik
-Spiral Dynamics / Graves Levels
-Fortgeschrittene Hypnose-Techniken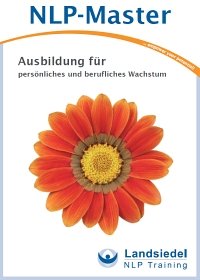 Die Broschüre zum NLP-Master:
Ausbildung für persönliches und berufliches Wachstum
-----------------------------------------------------------------------------------------------------------------------------------
Weitere Infos unter: Landsiedel-Seminare
Practitioner - Master - Trainer - Coach - Coach-Module - Kongress - Events - Unternehmer
Lernen Sie uns kostenfrei kennen!